Railing Posts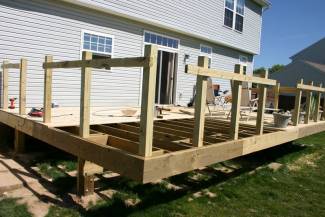 (click any image to popup it's large version)
Railing Post Info
Number Posts: 16
Post Size: 4"X4"
Design: Posts are built in. They are placed inside rim joists
Strength: All posts use a 200lb reinforcement design.
Caps: Post caps bought from Home Depot.
Base Trim: My father in law made some moulding by shaping some pressure treaded boards. Trim was attached using a gap between bottom and deck floor to prevent water pooling.
The Design
Like the deck posts, the railing post design I chose was not the easiest to implement but it provided lots of strength and the look I was trying to achieve. I love the look of posts that look like they are "growing" out of the deck. The railing posts were almost as time consuming as the deck posts but I was very pleased with the results. The strength of the railings are incredible!! They are solid! And I acheived the look I was hoping for
The Blocking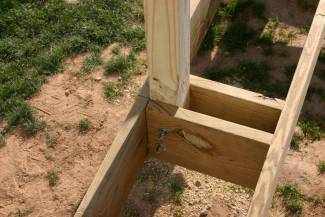 To create the 200lb reinforcement I started by attaching two blocking boards to each post. I attached the blocking boards using two 1/2" carriage bolts. Each blocking board was made from a 2X10 and cut to 16" to span the width between the joists. On the long end of the deck where the blocking ran parallel to the joists I needed to add a 3rd board between the joists to attach the railing post blocks to.
The Attachment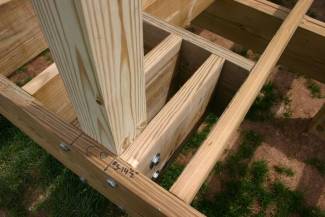 Each post/blocks unit was attached to the rim joist with four 1/2" lag screws. The opposite end of the blocks were attached using 3 regular deck screws since reinforcement is only required where the actual post is. With all bolts/screws in place the posts are VERY solid in every direction.
Ugly bolt heads
Once all the posts were installed there were lots of unsightly bolt heads visible. To hide these I added a 2X10 skirt board around the entire deck and drilled blind stop holes where each bolt was located. I tacked the skirt board in place with some screws over the bolts, smacked the board with a rubber sledge around where the bolts were and then took it down. There were nice indentations in the wood where the bolts were and then I knew exactly where to drill. Here is an example of some of the skirt board installed: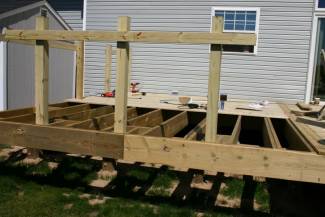 Misc Info
I rubbed a bar of soap on the lag screw threads before screwing in place to prevent snapping.
I braced the railing posts with 2X4's to try to minimize warping while waiting to get railings up.